NEW YEAR'S EVE IMMERSED IN HARMONY IN AN ANCIENT HOUSE IN THE VILLAGE OF MONTERUBBIANO
IN THE THEATER OF THE HOUSE VEGETARIAN DINNER WITH VEGAN INFLUENCES
IN THE GARDEN AROUND THE FIRE THANKSGIVING TO THE OLD YEAR AND PROPITIATORY GREETINGS TO THE NEW
The new year is approaching and with it the world that we will be able to imagine and co-create together.
It is a special year and for the first time we will open our home to experience this moment together.
For those who want to stay overnight, our houses will be ready to welcome you, Silvia's dishes will be served in the theatre, a small space that can accommodate no more than 25 people.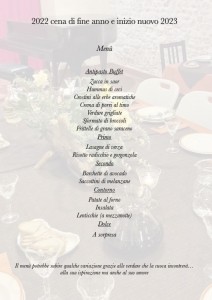 2022 end of year dinner and start of new 2023
Menu
Appetizer Buffet
Pumpkin in saor
Chickpea hummus
Croutons with aromatic herbs
Cream of leeks with thyme
Grilled vegetables
Broccoli flan
Buckwheat pancakes
First
Cabbage lasagna
Radicchio and gorgonzola risotto
According to
Avocado boats
Eggplant sachets
Side dish
Baked potatoes
Salad
Lentils (at midnight)
Sweet
Surprise
The menu could undergo some variations thanks to the vegetables that the cook will meet… to her inspiration but also to her mood
for information: stefania 328 9669039